Residence Inn Miami Sunny Isles Beach
Relax with rooftop ocean views at the new Residence Inn Miami Sunny Isles Beach. Our brand-new hotel is located between major Miami shopping destinations including Aventura Mall and Bal Harbour Shops. Enjoy complimentary perks including our daily breakfast buffet, high-speed Wi-Fi, and Sunny Isles Beach area shuttle service. Our proximity to airports and Port Miami makes us a great option for business and leisure guests looking to start or end their vacations in Florida. Retire in style thanks to our spacious suites. With luxurious bedding, fully equipped kitchens and floor-to-ceiling windows overlooking stunning water views, you'll find everything you need to relax in a contemporary-inspired ambiance. Select rooms feature private balconies for additional comfort. After an eventful day, enjoy a refreshing dip in our rooftop pool while sipping on a cocktail from our pool lounge. From weekend trips to weeklong getaways, don't miss the opportunity to call Residence Inn Miami Sunny Isles Beach home.
It's All Here Waiting For You!
We've included a host of complimentary amenities you'll appreciate on an extended stay, so you can succeed on a personal and professional level.
Sunny Isles Beach, Florida: Pre-pay & Save
Save up to 20% this winter on your escape to white-sand beaches, rooftop pools and Miami attractions.
Stay at the Residence Inn® Miami Sunny Isles Beach with this advance-purchase deal.
Save up to 20% when you prepay for your stay
Escape the winter blues with Florida sunshine, white-sand beaches and perfect turquoise waves. The hotel, which faces Sunny Isles Beach, offers complimentary breakfast and Internet access as well as a rooftop pool and apartment-style accommodation.
Stay in or explore nearby attractions, including shopping at Aventura Mall and outdoor fun at Oleta River State Park.
Book your stay today for the best availability!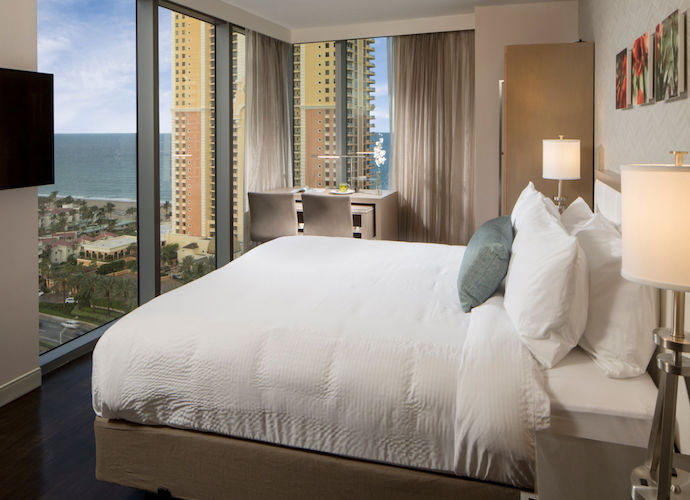 Extended stays that feel like home.
Book your stay of seven or more nights and receive a $25 grocery gift card or on-property market credit. Plus, select locations offer grocery delivery service direct to your room.
Terms and Conditions
Valid seven days a week through 12/31/19.  Includes a $25 grocery gift card for every seven nights consecutively stayed; grocery store location may be pre-selected by hotel. Minimum length of stay required (varies by participating hotels). Blackout dates and other restrictions may apply. Rates are per room, per night and based on availability at the time of reservation. A minimum length of stay may apply. Limited number of rooms are available for this promotion.  Tax is additional.  Offer does not apply to groups of 10 or more rooms.  Offer cannot be combined with any other promotions.  Blackout dates may apply.  Advance reservations required.  Other restrictions apply.  Rates are per room, per night and based on availability at the time of reservations.