Acqualina Resort & Spa on the Beach
Situated between Fort Lauderdale and Miami on the pristine white sand beaches of Sunny Isles Beach, Acqualina Resort & Residences on the Beach is an enchanting Mediterranean villa with an atmosphere that embodies the spirit of luxury, serenity and enjoyment. Located on 4.5 beachfront acres with 400 feet of stunning Atlantic Ocean coastline, the luxury Miami hotel features 98-luxury rooms and 188 lavish residences, a 20,000 s.f. ESPA oceanfront spa, three oceanfront dining areas including the acclaimed Il Mulino New York restaurant, three oceanfront swimming pools and an innovative marine biology-based AcquaMarine children's program. Guests of Acqualina enjoy luxurious Miami Beach vacations with world-class services and endless opportunity to relax and rejuvenate.
Welcome Amenity

Complimentary spa access to the thermal heat areas, including crystal steam rooms, Finnish sauna, experience showers and Jacuzzi

Daily $40 spa body or facial treatment credit for up to two adults
Complimentary Internet access

Complimentary access to AcquaMarine Children's Program for children ages 5 – 12

No resort fees! As a full service resort, Acqualina provides complimentary beach umbrellas, plush lounges and a pool concierge that brings chilled towels, iced grapes and fruits, and delicious smoothies to guests every hour.
Offer expires December 18, 2020.
Both Acqualina Resort and Acqualina Spa by ESPA are honored to be awarded the Forbes Travel Guide Five Star Award for the sixth consecutive year. In celebration of our latest achievements, we invite you to experience our opulent resort with our Five Star Experience Package.
This five-night getaway includes a complimentary fifth night along with the spectacular inclusions listed below:
Daily Buffet Breakfast for Two by Il Mulino New York

Complimentary Internet Access

Complimentary Access to AcquaMarine Children's Program for Children Ages 5 -12
*Subject to availability. Blackout dates apply.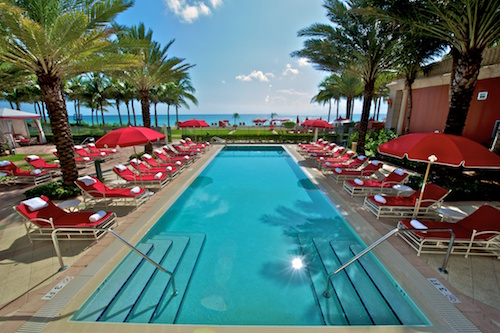 Breakfast Inclusive Package
Book Acqualina's Breakfast Inclusive Package and enjoy daily buffet breakfast for two people at our signature restaurant AQ by Acqualina by cuisine by Il Mulino New York. In addition to daily buffet breakfast, this package offers the following inclusions:
Welcome Amenity Upon Arrival

Complimentary Wireless Internet Access

A Daily $40 Body or Facial Spa Treatment Credit for up to Two Adults

Daily Access to our Award-Winning Children's Program, AcquaMarine (Children 5-12)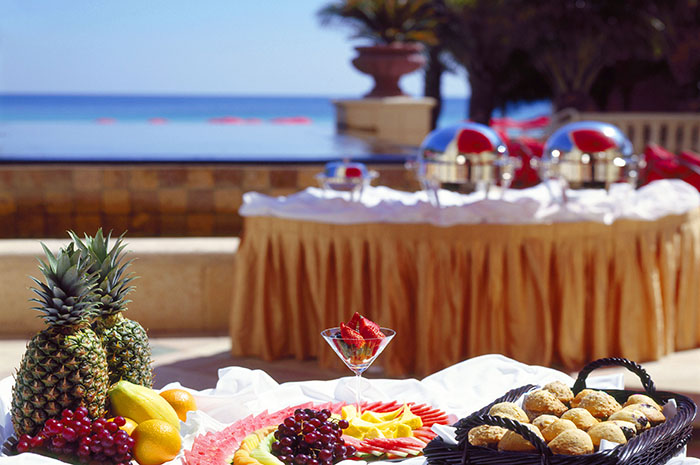 Set against the tranquil ocean and stunning white sands of Miami Beach, Acqualina Spa by ESPA is an indulgent retreat for relaxation and rejuvenation. Experience the true pleasures of our world-class, 20,000 square foot facility, which features state-of-the-art treatment rooms, healing heat and water rituals, relaxation lounges, private and special occasion Royal Spa Suite, and magnificent outdoor terrace retreat. Embracing the legendary European Day Spa philosophy that each visit is a journey, your experience begins with our signature selection of Ayurvedic-infused holistic, restorative and meditative treatments for face and body. For the ultimate mind-body connection, Acqualina Spa offers yoga and other premier wellness services, in addition to our healthy spa menu.
Sophisticated tastes are always on the menu at Acqualina Resort & Residences on the Beach. Numerous dining options offer fresh, flawlessly prepared cuisine and exceptional atmosphere and views. Whether at one of our restaurants or in the comfort of one of our guest rooms, those with an appetite for the divine are most definitely in for a treat.
AQ Chop House by Il Mulino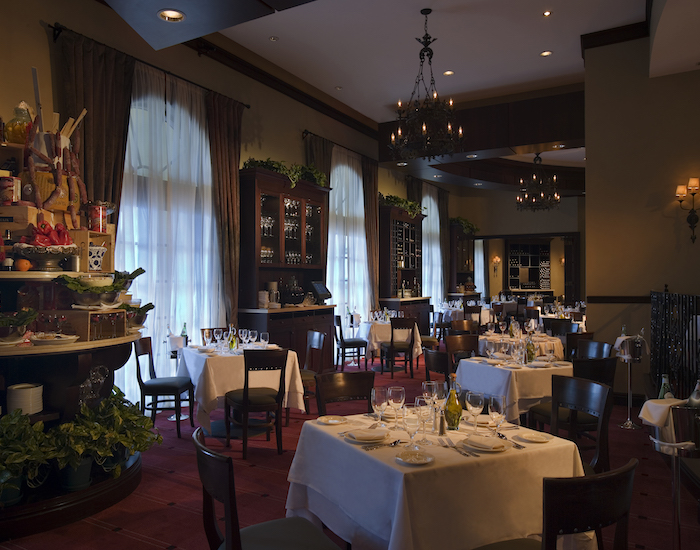 The moment guests arrive at AQ Chop House, their eyes will be instantly drawn to the giant, 1930s art-deco style chandelier that hangs from the soaring ceiling. The sweeping ocean views and natural light pouring in through the majestic windows highlight the handmade walnut dining tables and plush seating.
Menu highlights include sheep's milk ricotta with sea salt & extra virgin olive oil, branzino crudo with blood orange & frisee, grilled octopus, short rib ravioli with sage & butter, grilled fish and prime dry-age meats as well as delectable sides from truffle french fries, broccoli rabe to cream of corn and sauté cauliflower with raisins. Located nearby, a full sushi and raw bar managed by sushi chefs from North Miami Beach's famed pan-Asian restaurant, Hiro's Yakko-San, is available.
Sunday Brunch Buffet
Join us every Sunday from 12 pm – pm at AQ Chop House for a special brunch buffet by Il Mulino New York while enjoying live music. Adults $85 (unlimited Mimosas, Prosecco, Mojitos and Bloody Marys), children ages 13 and under $35 (tax and gratuity not included).
An idyllic match for the elegant Mediterranean style oceanfront Acqualina Resort, acclaimed Italian restaurant Il Mulino New York is renowned for its bustling and energetic atmosphere, market fresh daily specials extensive selection of fine Italian wines and impeccably polished wait staff. Il Mulino New York at Aqualina Resort and Spa has been awarded the Forbes Travel Guide Recommended Award for its exceptional dining experience. Il Mulino New York has been honored as the #1 Italian restaurant on the New York City Zagat Survey for an astonishing 20 years.
Weekend Brunch Buffet
Join us every Saturday and Sunday from 12 pm to 4 pm in AQ at Acqualina for a special brunch buffet by Il Mulino New York while enjoying live music. Adults $85 (unlimited Mimosas, Prosecco, Mojitos and Bloody Marys), Adults $65 (beverages not included), children ages 13 and under $35 (tax and gratuity not included). To make a reservation, call 305.466.9191.
Il Mulino serves breakfast daily in AQ by Acqualina from 7 am – 11 am.
Lunch from 12 pm – 2:30 pm daily.
Dinner is served from 5:30 pm – 11 pm every day.
AQ Bar, adjoining the AQ Chop House by Il Mulino restaurant is inspired by the smooth and sultry era of the Parisian jazz movement, the stylish interiors stimulate creativity and intellectual conversations while guests sip hand-crafted cocktails and play chess or backgammon on custom art-inspired game sets. Brass finishes, an antique mirror and midcentury modern furniture create an eclectic vibe. In partnership with Fine Art Mia, an elaborate collection of original contemporary art adorns the walls of the bar creating a gallery feel. AQ Bar provides an excellent option for cocktail hour and pre- and post-dinner drinks. In addition to high-quality wine and champagne menu enjoy the traditional as well as our mixologist's own unique creations.
Hours: 11 am – 11 pm daily
The oceanfront Costa Grill is the perfect spot to enjoy a beachside lunch or a light snack or to relax and unwind with a cocktail as the sun sets. The beachfront Miami restaurant serves an array of gourmet cuisine including sandwiches, burgers, wraps and salads in a casual setting.
Hours
Costa Grill is open daily from 11 am – 6 pm for Resort Guests, Residents and Beach Club Members only.
Corporate Events & Holiday Parties
Acqualina Resort & Residences invites you to plan your upcoming corporate events, executive board meetings, and holiday gatherings at its spectacular seaside resort.
Acqualina recognizes the importance of a great venue and personalized service when it comes to meetings and events. With an executive boardroom and meeting spaces that include wraparound, oceanfront terraces, state-of-the-art technology, and the hotel's team of event professionals, Acqualina is the ideal setting for your next corporate event.
Acqualina also features three ideal settings to book your gathering that include a poolside location, a great lawn with brilliant ocean views, and a front lawn, situated steps from the Atlantic Ocean. Acqualina's expert catering team specializes in customizing an impeccable event suitable to your company's needs.
When it comes to this year's meetings, parties, and events, allow Acqualina Resort & Spa's world-renowned Five Star service, magnificent ocean views, and delectable cuisine help to make your event a great success.
For more information, please contact Catering Manager, Jessica Roldan, at 305.918.6774 or email her at jessica.roldan@acqualina.com.