Acqualina Resort & Residences hopes to inspire you virtually be sharing ideas and making their amenities available to make the most of this time. No matter where in the world you may be, you can travel to their Miami home – without having to leave the comfort of yours.
Enjoy a Yoga class, cooking lesson and even consider whipping up a "skinny cocktail." For a heartwarming touch, they have a complimentary romance novel and a how-to video for swan towel art. Plus, enjoy some "me" time by transforming your bath at home into a bath ritual. We hope you enjoy these experiences to enhance your time while at home.
Join us on Sunday, April 19 at 9am for Yoga with Dawn and Mark Oliver of Well Xplored. The immersive online class is offered via Zoom all in the comfort of your home. Expect to receive customized training and instruction from Mark while Dawn demonstrates the postures. These wellness leaders have been providing Yoga and wellness services to Acqualina for nearly a decade.
Click HERE to register for the class.
As part of The Acqualina Diet, we have created curated menus to meet varied dietary needs and other health conscious menu choices that are rich with antioxidants, vitamins, minerals and nutrients to promote overall health. We are happy to share with you one of the most popular dishes from the menu – a recipe for Kale and Quinoa Salad. You'll find a cooking demonstration where our chef walks you through making this delicious dish. We highly recommend adding a healthy protein. Our favorite is Wok Charred Salmon with our special recipe included.
Beyond the Acqualina Diet dining menu, Acqualina also offers a healthier beverage menu, including low-calorie and low-carb cocktails and low-sugar wines. After all, part of overall health means enjoying the things that rejuvenate your soul — which might be enjoying a glass of high-end wine or a "skinny" cocktail while at home. Here's everything you need to make a Skinny Margarita featuring strawberries or wild berries, coconut water and basil.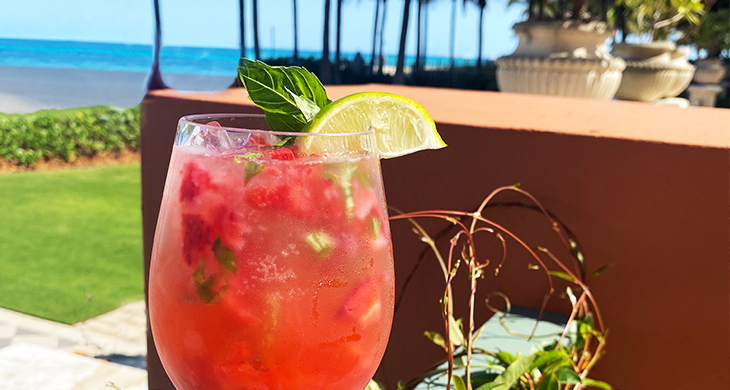 Since antiquity, cultures around the world have sought out the healing powers of baths. Now you can transform your bath at home into a bath ritual to aid in soothing sore muscles, joints and decompressing after a long day.
First, we recommend creating your ambiance by placing candles around the bathroom and adding your music of choice. And don't forget your beverage of choice, hot tea, a glass of wine, or even hot cocoa are all great comfort drinks to sip on while taking a bath.
You'll then want to start your bath with warm water, add two cups of Epsom Salt which is essential for relaxation due to the high levels of Magnesium.
To elevate your at-home bath ritual, we recommend adding essential oils. For a soothing option, pour one cap of the ESPA Soothing Bath oil, an aromatic bath oil to help relax a busy mind. With ingredients such as Sandalwood, Rose Geranium, Myrrh and Frankincense, you will be able to unwind your mind and rest your body while the Sweet Almond Oil deeply nourishes leaving you with beautifully supple skin.
For the fitness enthusiast that is looking to soothe and alleviate tired muscles, try the ESPA Fitness Bath Oil. Ingredients such as Restorative Indian Bay and Clove Bud oils soothe and relax the muscles, decreases lactic acid buildup and Lavender helps calm a busy mind, while Sweet Almond Oil nourishes your skin.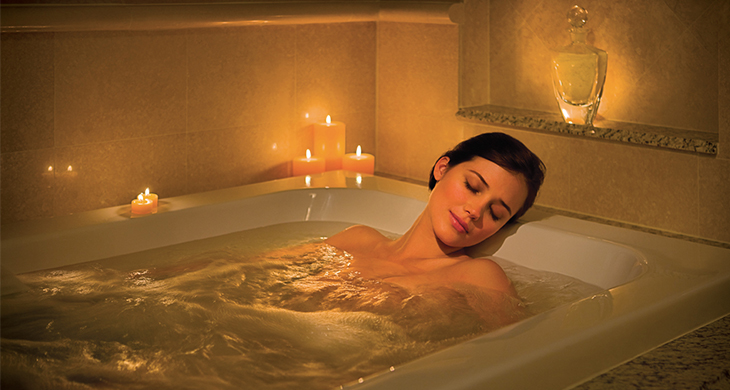 The swan is a spiritual animal and a symbol of purity, beauty and love. At Acqualina, our team members enjoy making swan towels by folding together hand and bath towels to produce elegant swans. Then, thoughtfully displaying them in the bedroom of one of our stunning suites sprinkled with rose petals. It's a wonderful surprise for couples celebrating a special occasion, an anniversary or a romantic getaway. Now you can make swan art while at home for your loved ones.